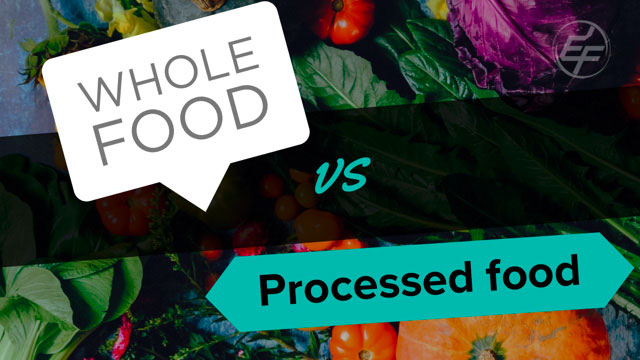 "Eat whole foods instead of processed foods whenever possible" …is a popular term you hear amongst those with the slightest bit of interest in nutrition.
Clients, friends and family often ask me a diet I can recommend, or they want my opinion of the latest diets out there. If you know me, you know that I don't believe in fads that promote rapid weight loss. I have always recommended whole foods that are nutritionally balanced.
What is a "whole food" exactly? And what do you mean by "processed" foods?
A PROCESSED FOOD is a food that has been removed from its natural state as a result of a chemical, biological or mechanical manipulation to change or preserve it. Some foods are processed to make it easier for storage or slow down spoilage with additives and preservatives. Processing food diminishes the nutritional value. They are usually high in sugar, fat, salt, and have very little fiber, vitamins and minerals. People who consume more ultra-processed foods have greater risks of obesity, high blood pressure, diabetes, and cancer. The convenience of processed foods is costing us our health!
Some examples of processed foods: potato chips, pastries, candy, soft drinks, processed meats, white bread, margarine, packaged soups, hotdogs, canned beans and sugary cereals to name a few!
Components to avoid in processed foods: artificial coloring, trans fat, artificial sweeteners, high-fructose corn syrup, sodium nitrate or any foods in a box, can or package.
WHOLE FOODS are foods that are in their natural state, have not been altered and are unprocessed. These foods have not been genetically modified (GMO-free) and are unrefined. Whole foods are loaded with important nutrients, low in sugar, heart healthy, good for your skin, high in healthy fats, contains antioxidants, and good for your gut!
Some examples of whole foods: fresh fruits and vegetables (asparagus, broccoli, spinach, brussel sprouts, berries, apples, etc.), beans or legumes, omega 3 foods, nuts, seeds, free range chicken, grass fed beef or wild fish to name a few.
Tips to eating whole foods over processed foods?
Don't let yourself think you can't eat clean because you are too busy!
Be care with prepared and 'ready-to-eat' goods.
Look for added sugars and avoid the refined carbohydrates.
Shop around the perimeter of the grocery store and check out the natural food aisle.
You are what you eat!
YOUR
JOURNEY
is about to
BEGIN.
Start your free
14 day trial today.