A delicious, gluten-free Meat Loaf recipe that the whole family will enjoy!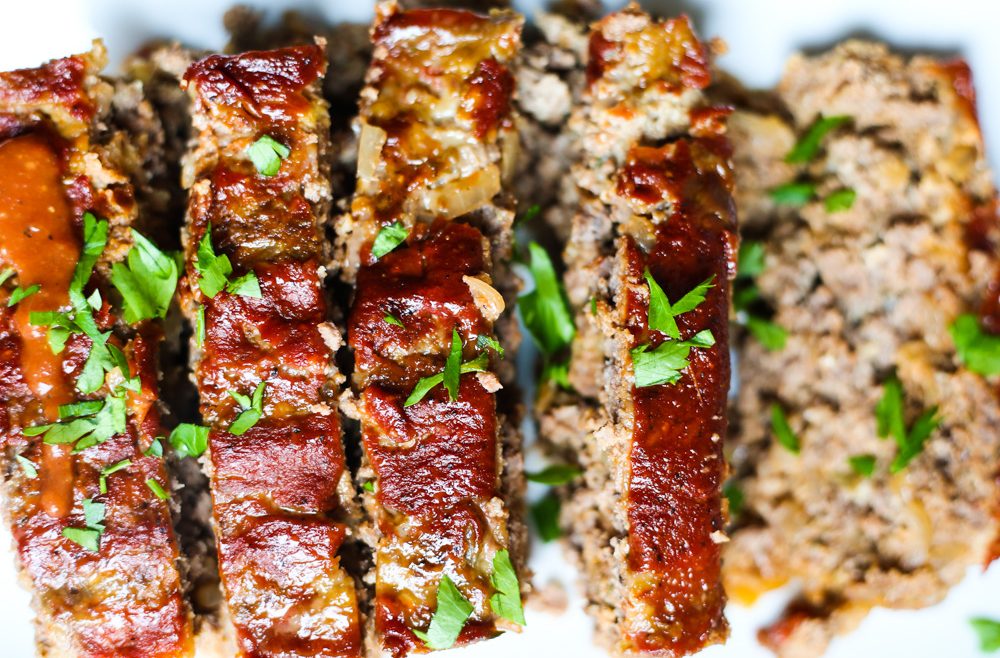 Ingredients:
2 cups finely diced yellow onion (about 1 large onion)
2 tbsp. ghee
salt and pepper, to taste
1/2 tsp. dried thyme
1 tbsp. tomato paste
1 tbsp. coconut aminos
2 lbs. ground beef
2 eggs, beaten
1/2 cup almond flour
For the sauce:
1/2 cup tomato sauce
1 tbsp. tomato paste
1 tbsp. coconut aminos
2 cloves garlic, minced
1 tsp. yellow mustard
1 tsp. crystals hot sauce
salt and pepper, to taste
Instructions:
Preheat oven to 350 degrees.
Heat ghee in a large skillet over medium heat. Add the diced onion and thyme and saute until tender, about 7 minutes.
Remove from heat and stir in the tomato paste and coconut aminos. Set aside to let cool.
When cool, place ground beef, almond flour, 2 beaten eggs, and plenty of salt and pepper (to taste) in a bowl. Pour the onion mixture on top , and mix lightly with a fork. Don't mash or the meat loaf will be dense.
Shape the mixture into a rectangular loaf on a sheet pan covered with parchment paper.
In a bowl, combine all of the "for the sauce" ingredients, stir to combine.
Spread the sauce over the top of the meatloaf.
Bake for 1 hour at 350°F, or until a meat thermometer inserted into the center of the meatloaf reads 155°F. Remove from oven and let sit for 10 minutes before slicing.
Make thick slices to serve.
Enjoy!